"Shred",  DANIEL CANOGAR (ES)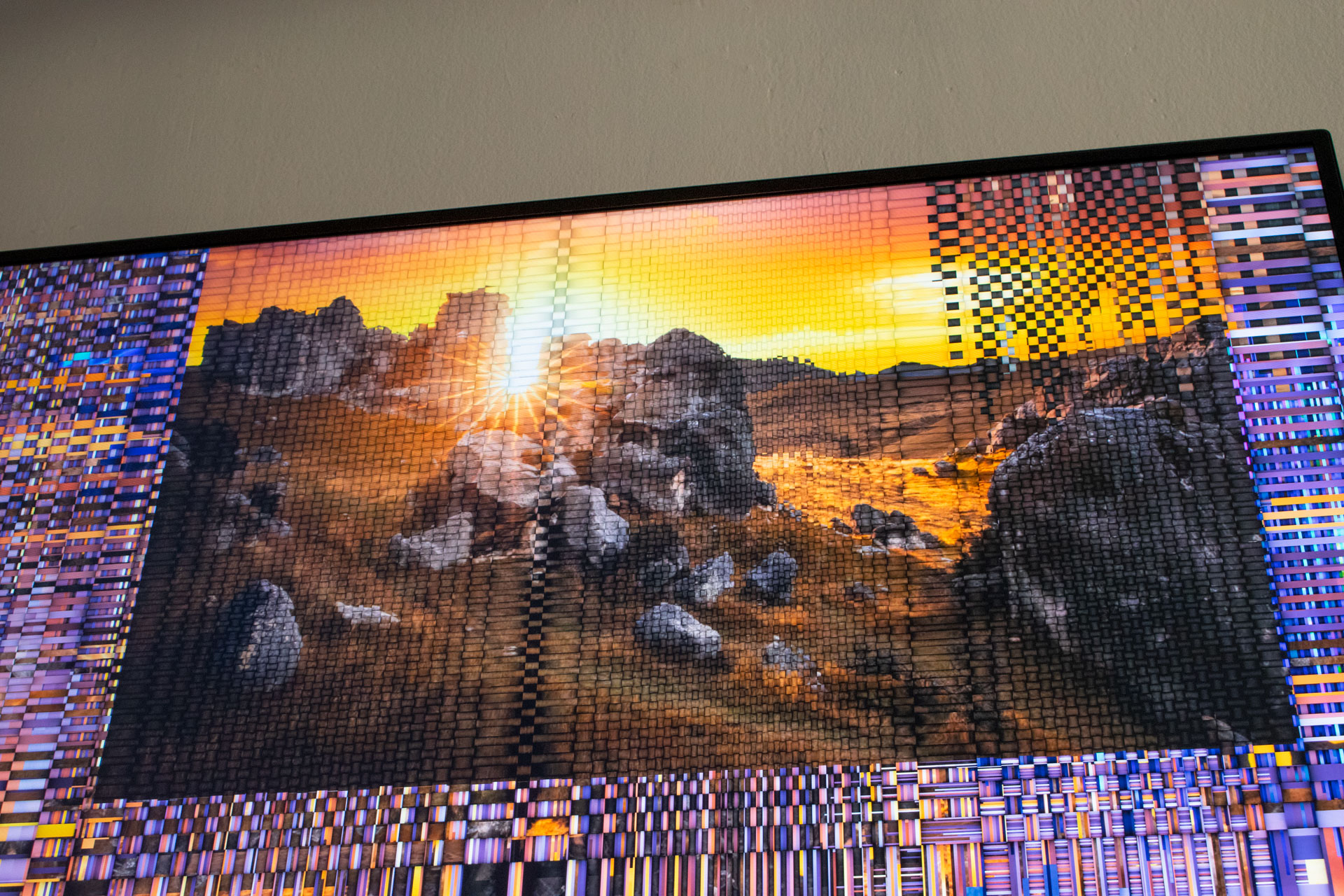 Title of the artwork: Shred  
Author: Daniel Canogar 
Date: 2021
Source:
http://www.danielcanogar.com/es/obra/shred
ARTWORK ABSTRACT IN WORDS OF THE ARTIST 
"From the origins of collecting, the notion of property always came accompanied by a physical, unique and unrepeatable object. In contemporary times, and even more since the peak of NFTs, the value isn't located in the physical artwork -as the original is infinitely reproducible without loss of quality-, but in the notion of the certified possession. We are attending to the total dematerialization of art, a paradigmatic turning point in history that radically changes how we understand material culture and archiving. 
This evolution of the artistic object has stimulated the appearance of new ways of market value, like the NFTs, a phenomena that we have followed closely and on which we've wanted to reflect with Shred."
Are NFTs (Non-Fungible Tokens) important for art? Is this new blockchain concept and certification changing the way we observe and recognize technological and digital art? With this piece, Daniel Canogar, questions a series of issues around this new method of certification and makes us reflect on NFTs from an artistic perspective, where the critical work takes precedence over the market.
WHAT DOES THIS WORK TRANSMIT TO US?
What materials / media are used in the work and why? 
Shred is a generative video piece that uses NFTs as raw material for its creation. The algorithm that activates the dynamic content of the screen connected to the Internet -designed specifically by Daniel Canogar's studio- collects live thousands of NFTs that are being uploaded to e-commerce platforms -web spaces for the sale of goods- to weed the rows of pixels that make them up and "shred" the images. It "shreds" them with a certain mockery given that this world seems to it 'kitsch' influenced by video games and emojis. The algorithm collects and reorganizes these data threads to braid them into a new visual loom in constant confection, an incessant activity of continuous deconstruction and reconstruction that corresponds to this new and indefatigable fever of digital collecting. 
What is the significance of the elements of the work? 
This work is a direct criticism of the aesthetics and vulgarity of crypto-art. According to the artist, he stated in his own words to Europa Press -a private Spanish news agency- that this work "is my commentary on NFTs, which as an artist who works with technology affects me directly: it angers me that our work is now seen with more interest because of this, when it has more to do with speculation and cryptocurrencies than with art". He also confesses that he was "urged" by this creation where there is "constant recycling", to show the "dematerialization" that art suffers today and comments that "the arrival of this technology has put on the table very important issues for art". (Source: https://www.europapress.es/cultura/exposiciones-00131/noticia-daniel-canogar-artista-arco-tritura-arte-nft-tiene-ver-mas-especulacion-20210707181329.html).
As a curiosity of this work is that the piece did not find buyers in the traditional market, when it was associated with a NFT it was sold in a few days for record prices. From this moment on, Daniel Canogar has incorporated NFTs in his artistic practice, following his reflective line around the "immateriality of digital space".
About the artist
Daniel Canogar (1964, Spain) began his training in the world of photography when he specialized during his master's degree at New York University and the International Center of Photography in 1990, but soon became interested in the possibilities of the projected image and installation art. He has created numerous public art pieces with sculptural LED screens and monumental public works. His exhibition projects include solo exhibitions "Hidden Tiles" at Wilde Gallery (Basel, 2021); "Amalgama Phillips" at The Phillips Collection (Washington D.C., 2021), "Reverberations" at Kornfeld Gallery (Berlin, 2021); "Latencies" at Anita Beckers Gallery (Frankfurt, 2021); and "Billow" at bitforms gallery (New York, NY, 2020). His work has been exhibited, among others, at the Museo Nacional Centro de Arte Reina Sofia, Madrid and Mattress Factory Museum, Pittsburgh.
Autora del análisis: Helena Hernández Acuaviva