Portrait of Sir John Edward Sulston using his DNA,Marc Quinn(uk)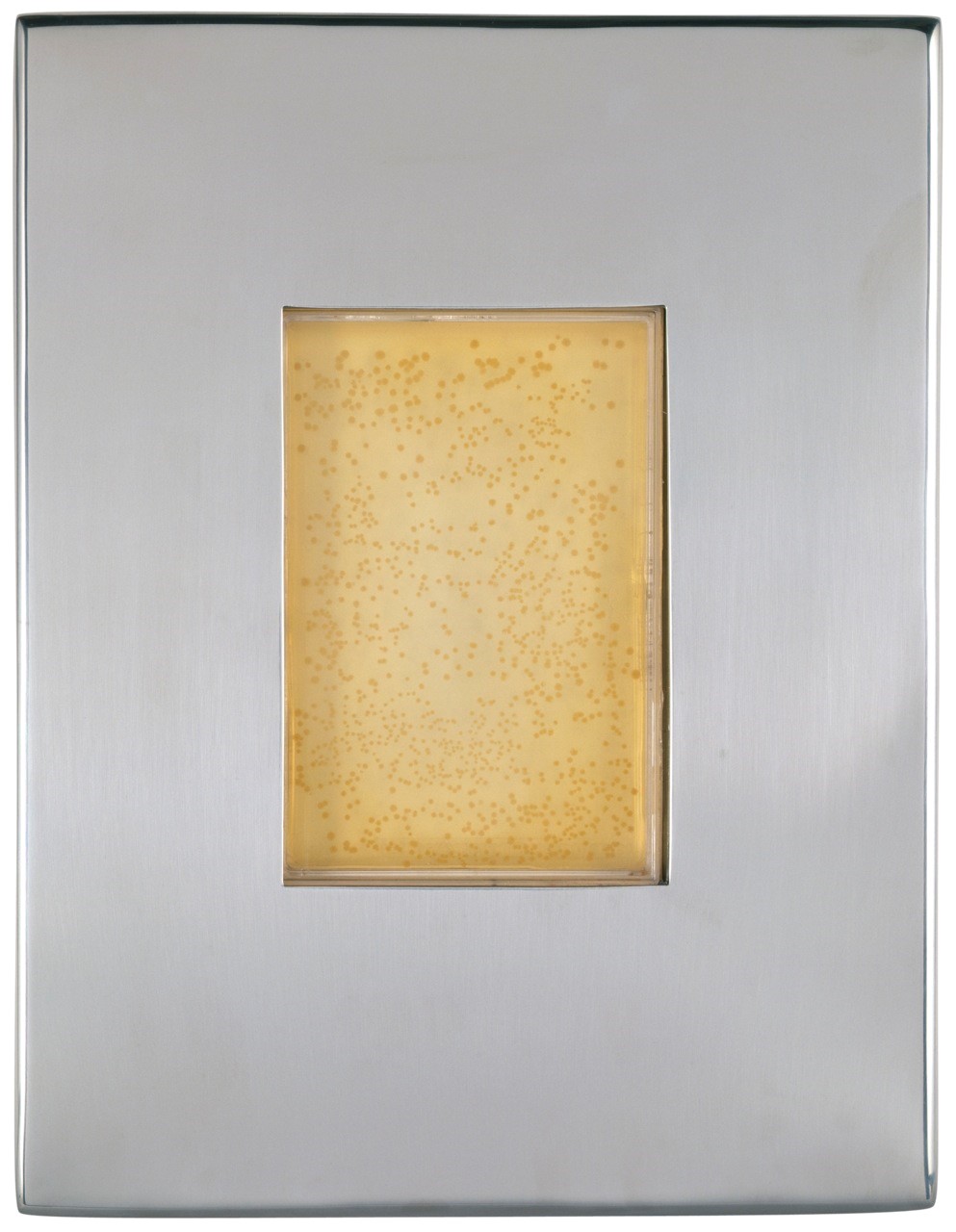 Title of the artwork: Portrait of Sir John Edward Sulston using his DNA
Author: Marc Quinn
Date: 2001
Technique: Mixed (stainless steel, polycarbonate agar gelatin, bacterial colonies, human DNA)
Proportions: 12,7 x 8,5 cm.
Source: http://marcquinn.com/artworks/single/dna-portrait-of-sir-john-sulston
ARTWORK ABSTRACT
Quinn has created an intriguing portrait of Sulston that, while abstract in the aesthetic sense, gives us an accurate representation of the sitter and precisely captures what makes him unique. The portrait features a detail of Sulston's genome: the "recipe" for making it. A highly reflective frame evokes the clinical atmosphere associated with scientific research and prompts the viewer to consider their own identity and the personal impact of the Human Genome Project.
The portrait of Sir John Sulston is therefore contemplated as an intermediary sign between the artist Marc Quinn (2001) and the public that looks at this artistic work. The theories of artistic language appear, being in this case the tendency, the paradigm of Bio-Art. In this way, we ask ourselves why people dedicated to art and those dedicated to science join forces to collaborate in this type of project and what are the ethical implications of converting the life of others into codified art? From a semiotic consideration, as a communicative system we find ourselves in a sociocultural context within which those who observe are prompted to consider their own human identity and their own reflection on the impact of the human genome project and its influence on their own culture. We wish to highlight in the same way the ethical implications and values behind the use of the identities and the personal and intimate lives of others in art: the use of semen to extract the DNA of the person portrayed as a coded fact devoid of meaning as a life story and human emotions.
WHAT DOES THIS WORK CONVEY TO US?
What materials / media are used in the work and why? 
We would consider this work special and unique within an installation because of its abstract strength and conceptual charge. Illustration and rectangular frame, presented either suspended or hung on the wall. With a frame that simulates neatness and rigor in accordance with the hygiene that must be carried out in the molecular scientific method. It is a single work, not attached to any collection, which reproduces the identity of a particular person, a British biologist in the field of molecular biology and Nobel laureate (2002). The material chosen are fragments of his semen to extract the DNA and capture his portrait in a version of contemporary and abstract art. In addition, the semen was treated with specific maintenance techniques for this work, which can be seen in the work as specks or dots.
What is the significance of the elements of the work?

This work represents the abstract identity of a particular person, real and recognized in his scientific field of research. We could say that it is a reality that leads us to disillusionment because it seems that when we observe it we cannot relate that same human portrait with the personal life supposedly full of meanings, nor with biographical accounts or chronicles of a life story. It leaves us with a void, perhaps. Although it is a portrait that contains material, the manipulated sperm of a person, it fixes our attention on its more abstract or immaterial characteristics: a life story portrayed in dotted form, and indecipherable, which in a way can leave the beholder with a kind of reflective frustration about an image that contains vast amounts of indecipherable intimate and personal information. It is somewhat odd that a portrait shows virtually nothing about the life and personality of the subject portrayed. This work, likewise, is an excellent example of how an artist can get to inquire about scientific procedures and technologies, in this case molecular biology. This work is based on such sensitive data as DNA. In a historical moment in which we continually question the veracity of information and the confrontation with the context of Big Data as objective and reductionist data versus identities and life stories full of symbolism and subjective, complex and holistic meanings. This work leads us to reflect on what we are, whether we are a numerical series of molecules as a bar code, cold and soulless, or a human soul full of emotions and feelings. It is an examination of personal and cultural notions of identity in contemporary art.
About the artist
Marc Quinn 
Related artwork
DNA Garden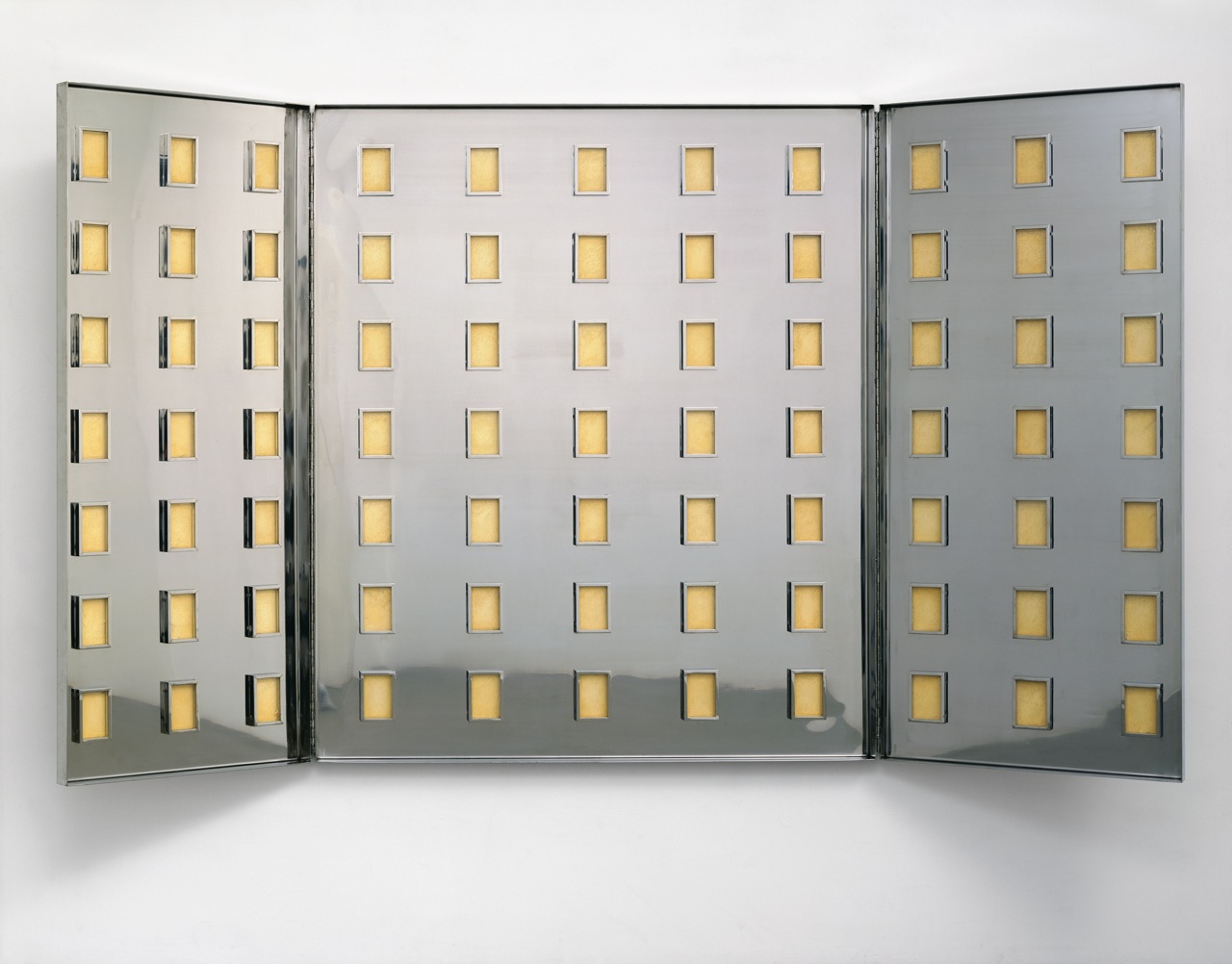 Source: http://marcquinn.com/artworks/single/dna-garden
Author of the analysis: María José Romero Ternero